Hanayama cast puzzzle video
Welcome To Our Magic and Puzzle Site
These are not just great Christmas presents.

NEW LOWER PRICES! we consistently beat Amazon on price.

A puzzle is a problem or mystery that tests the logical resources of the solver. In a basic puzzle, the solver is required to put together pieces in a set way in order to complete the solution. Puzzles are a form of 'sadistic torture' entertainment.

Solutions to puzzles can require recognizing patterns and creating a particular orders. People with a high inductive reasoning aptitude may be better at solving these puzzles than others. Puzzles based on the process of inquiry and discovery to complete may be solved faster by those with good logical deduction skills.

Nic Picot Magic

Hanayama Story
Hanayama - Buy from us we will price match. Unlike Amazon you can talk to us! More than 70 puzzles in the set - 2022

The Cast Puzzle....
Britain in the 19th century: The nobles and citizens, brimming over with inventiveness and curiosity are said to have created a boom in puzzles. A great variety of puzzles came into existence during this period. Among those puzzles, we have attempted to bring back to life the "Cast Metal Puzzle". To create the puzzles, zinc alloy is melted and poured into a metal mould. Upon it's completion after precise finishing the puzzles are name the "Cast Puzzle" series due to its manufacturing process name; the die cast method.

The allure of the Cast Puzzle....
The Cast puzzles have both a challenge and a difficulty level element that wire puzzles, generally known as "disentanglement puzzles", don't have. People who try them experience refreshing stimulation as no force is necessary and this arouses their interest in solving them.
The Cast Puzzles offer an unlimited amount of mystery. Its collectability is also one of its appeals. Once you solve one, you will no doubt want to challenge yourself by solving more.
Again, there are no answers in the set, as we want you to solve the puzzles on your own and experience real fulfilment.

Notes concerning use....
In order for you to fully experience the "fun" and "agony" of solving these puzzles, no solutions have been provided. Solve the puzzles on your own and experience real excitement.
Please do not exert excessive force on the puzzle; it is never require to solve the puzzle.

Reproduced from brochure written by the Development Team at Hanayama.
NHK
This installment of "Gadgets" is all about puzzles. Not flat jigsaw puzzles, but the 3-D kind that you hold in your hand. These kinds of puzzles can be a real challenge to solve; sometimes taking weeks or even years to figure out. Who develops these infuriating brain twisters and who can solve them? Join Akira Daniel Duncan and find out!


Hanayama is a manufacturer of games and toys that's been in business for over 80 years. They're internationally known for their mind mending series of three-dimensional puzzles. Called "Huzzle," it has fans in countries worldwide. The line's name is a portmanteau of hazusu, which means "to remove" in Japanese, and "puzzle." Currently there are 52 different designs available; some of which are based on puzzles that originated in England over 100 years ago. Designing their original puzzles once involved modeling with wood or clay. But according to Teddy Sakamoto, the company's marketing head, digital design has drastically changed the face of puzzle making. It allows for puzzles that would otherwise be impossible to design, and are also incredibly difficult to solve. These puzzles transcend language and culture, making them challenging fun for everyone everywhere!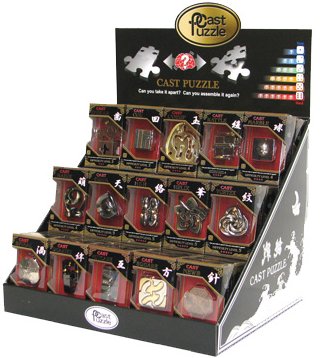 Boxes sizes
Some people are asking how the puzzles are packed.

All are all in uniform size boxes approx 7.5x4.5x11.5 cms

Chess
Hanayama are making their own versions
of Marcel Gillen's original Chess Pieces

one set less than £150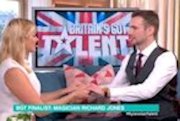 Close up magic with Nic Picot
A LIFETIME 'S EXPERTISE!


As an expert close up table magician - the most demanding of magical disciplines, Nic refined his craft from a young age. Whilst still at school he earned money from performing magic for fellow pupils - an experience that impressed upon Nic the allure of magical effects and their special entertainment value. Since the 1980's he has notched up countless performances as a close up and trade show magician - his effects always spellbinding and his experience second to none. Nic especially enjoys creating table magic at weddings - enjoying the intimacy and atmosphere of what is always a unique and special day (and there are always guaranteed to be quite a few amazed looks for the wedding album).

For larger events, Nic can arrange a team of table magicians - all come personally vetted and highly recommended by Nic himself.
London Puzzle Party
The London party meet the 2nd Tuesday of the month in Camden.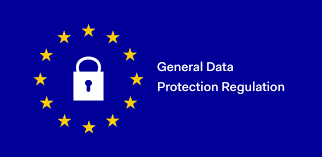 GDPR
The GDPR says that the information you provide to people about how you process their personal data must be:

concise, transparent, intelligible and easily accessible; written in clear and plain language.

We will keep your contact details and name safe and not share with third parties.

By contacting us we will let you know of new products and special offers and keep you informed about the puzzle marketplace.

By law we have to keep your details for 6 years. Let us know if you do not want to be on our mailing list!

If you have any questions or are unclear please call Nic on 020 8421 2500 so that you can discuss your concerns.